24-Hour Services In Waco TX For Transponder Car Keys
Transponder Car Key Experts At Your Service 24/7!
Virtually every make and model of cars today use transponder car keys. These have a small microchip that makes it possible to unlock doors and turn the ignition. If you require transponder car key services in Waco, you need to make sure that you rely on a professional automotive locksmith company like us.
We are Waco Locksmith Pros and we offer transponder car key reprogramming, duplications, replacements, and lockout services.
Transponder Car Key Services That Won't Cost A Fortune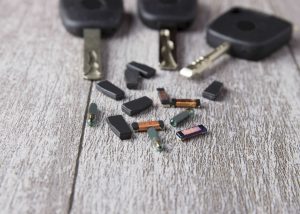 A transponder car key replacement in Waco is necessary for many instances. If you lose or break your key, you need a new one in order to be able to get into your vehicle and operate it. Rather than depending on the dealership, which may take days in order to get a transponder car key replacement, you can rely on us and our fast car key replacement solutions. Our professional locksmith services in Waco Texas are some of the best and this gives you peace of mind knowing that you are making the right call.
We provide emergency locksmith services, which allows you to get what you need when you need it. We will come out day or night to your location in order to provide you with a replacement, duplication, or get you inside of a locked vehicle.
Our locksmiths are experienced in foreign and domestic cars. We also have advanced computers and equipment that make it possible for us to read the necessary coding to produce or reprogram transponder car keys.
Your Local, Mobile Locksmiths
Waco Locksmith Pros is here as your local locksmith company. We work as automotive, commercial, and residential service provider. We offer security audits to enhance security as well as make repairs and replacements. We can install advanced locks, repair ignition cylinders, and take care of transponder car key duplication.
We use the best brands in the industry, ensuring that you have a high-quality safety and security in place at all times. With our 24-hour locksmith services, it also allows you to call day or night in order to get locksmith assistance.
Our customers choose us because of our:
Affordable and upfront pricing
24-hour, mobile services
Commitment to excellence
Experienced technicians
30 minute or less response times
We have a great reputation in the community and look forward to continuing it. You won't find friendly and professional locksmith services like ours anywhere else!
The Dos And Don'ts Of Transponder Car Keys
We want to make sure you have access to your car at all times, which is why we have a few do's and don'ts for you to follow. And should you ever need our help, simply call.
Do:
Take good care of your keys
Have a replacement available
Change the battery on fobs
Don't:
Use the key for anything other than it's intended use
Keep it near magnets
Ignore stress marks on the key
Call today to schedule a locksmith to come out and provide you with assistance with transponder car keys or anything else.