Fast Home Lockout Services In Waco Texas 24-Hours A Day
Call Waco Locksmith Pros And Get Quick Solutions To Your Home Lockout Problems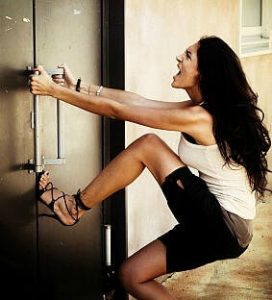 When you find yourself in the middle of a home lockout situation, what should you do?
You don't want to break a window and you have no idea how to pick a lock. Rather than waiting around for someone else to come home, simply call Waco Locksmith Pros and a licensed residential locksmith will arrive at your location in 30 minutes or less.
We are the mobile locksmith company you can rely on to provide you with help 24-hours a day.
The Importance Of Calling A Pro To Get Back Into Your Home
It's important to find an experienced locksmith to help you when you find yourself locked out of your house.
Here's why:
Often times, when people attempt to handle lockouts on their own, they end up causing serious damage to their door or lock mechanisms. These damages often cost much more money than you would have spent on our home lockout services in the first place.
And we don't stop at just opening exterior doors!
We offer experienced technicians who will help you unlock exterior and interior doors. Whether you have lost your key, your key has broken off inside the lock, or there is another problem, we have the experience and equipment to assist you quickly.
Interior doors:
In many instances, you might need a bedroom lockout or a bathroom lockout service. Or maybe, you can't find the key to your basement or attic. And sometimes we can easily become locked out of a shed, a pantry, a laundry room, or any other location in your home. This is particularly common when there are children in the home. Someone might lock the door and refuse to open it or the lock was thrown away by accident and no one is on the other side of the door.
Our emergency locksmith services are available 24-hours a day, seven days a week. This means you never have to wait until the next business day to get assistance. We will be able to provide installations and repairs of new locks as well.
High-tech equipment
All of our vans are fully stocked with tools, state-of-the-art equipment, and more. And all of our local technicians continuously train in any new lock technologies that emerge on the market.
That means, even if you are locked out and have new high-tech keyless entry locks, we can still get you back inside quickly and safely.
Call now to schedule an appointment with one of our locksmiths in Waco Texas.
Unique Benefits Provided By Waco Locksmith Pros
When you require professional locksmith services in Waco Texas, you can count on us. We are local as well as fully licensed, insured, and bonded. We take great pride in our work and all of our locksmiths have at least five years of experience.
We provide training to all of our locksmiths to ensure that they are capable of handling locks not only in the home but also in businesses and vehicles. We can also provide security audits where we make recommendations on high-security locks to enhance your home or business.
We also offer:
Competitive and upfront pricing
Mobile services with 30 minute response times (or less)
Comprehensive home lockout services
Service with a smile
Expert advice
Dos And Don'ts Of Home Lockouts
A home lockout needs to be handled quickly and efficiently. We offer some dos and don'ts to make it easier for you to overcome the problem in the future.
Do keep a spare key with a friend or trusted neighbor
Do call a locksmith when you need assistance
Don't try to pick the lock
Don't break a window
Don't wait until the next business day
Call now and a local locksmith will be dispatched to you! We will take care of the problem and address any other locksmithing concerns you might have.
Our customers choose us because they understand that we are very knowledgeable in all aspects of locksmith service and that we offer many superior customer service perks such as upfront pricing. We know that if we base our company on treating our customers fairly and with respect that you will choose us again and again for all of your needs.