Protect Your Employees And Customers With Panic Bars Installed By Local Experts
Ensure Your Property Meets All Safety Requirements With Properly Installed Panic Bars
Simply put, panic bars save lives!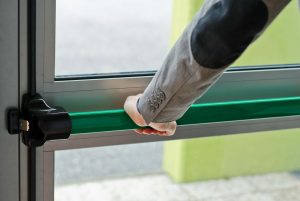 When you panic, you experience a sudden surge of anxiety and often start responding without logical thinking. This can easily happen when a large group of people is trying to exit a building quickly in an emergency such as a fire. The use of panic bars (also known as push bars or panic hardware) allows for easier exits during such situations.
Without panic hardware that has installed by a commercial locksmith expert, serious injury or even death could occur.
Panic bars today are frequently used in commercial businesses and public buildings in order to provide security while allowing emergency access. If your business is looking for panic bar installation or panic bar repair services, give our team at Waco Locksmith Pros a call. We provide comprehensive locksmith services in Waco Texas.
Different Types Of Panic Bars We Can Install For You
Sometimes known as push bars, these panic doors can allow people to escape a building in an emergency or be installed in between buildings to limit the spread of fires. They may be used to access emergency staircases in larger public buildings.
Our highly skilled technicians can help your business select and install the right push bars for your particular needs. These locks can be set in various fashions including:
Single-side exit-only doors: These provide security and limit access to outside in only cases of emergency.
Keyed exterior access: Allows individuals to enter through these doors from the outside with a key.
Keyless security systems: Individuals may re-enter from the outside by using a coded keypad.
Panic bar doors: Doors can be set to stay unlocked during selected hours of your choosing.
Professional Services Make A Difference
As your local locksmith, Waco Locksmith Pros brings years of experience to your business. All of our technicians have more than five years of field work under their belts, and our company is fully licensed, bonded and insured.
Our professionals have been providing panic bar services in Waco for many businesses like yours, and we have expertise in commercial security systems as well. We understand there are times in a business when problems with push bar doors can be an emergency, and we are proud to be your 24-hour locksmith in those situations. As your emergency locksmith, we will come out immediately to address your emergency.
Our friendly staff promises a response time of under half an hour, and we always provide upfront pricing so you will not be surprised at the final bill. Our mobile locksmith comes with a fully equipped unit containing advanced security tools and equipment and the highest quality, brand name locks. We are focused on your complete satisfaction.
Repairs And Maintenance For Your Panic Bars
Security doors at a business need to stay operational all the time in order to protect a company's investment in both products and people. One way to ensure that crash bars are functioning correctly is to have regular inspections performed.
Our professionals at Waco Locksmith Pros can provide those inspections as well as maintenance in order to catch any potential problems before they become serious security issues.
Frequently Asked Questions About Our Panic Bar Services
Do panic bars offer security solutions as well?
If crash bars are installed properly and professionally, they increase the level of safety for people inside a large building in cases of emergency. They have a dual purpose of keeping intruders outside when they are locked, yet they can be opened quickly in an emergency.
What varieties of crash bars are best for my business?
Some are equipped with an alarm to alert businesses that someone has exited from a push bar door. Both cross bar and ones that are vertical in design are available. Speak with our professionals about the benefits of each design to make the best choice for your business.
How much do panic bar installation services cost?
Like everything else, there is a price range that depends on a variety of factors such as the number of doors as well as their size and the building material. Before we begin any work we will make sure you are fully aware of how much your service will cost.
What are the key benefits?
Besides securing your business and allowing rapid exit in an emergency, push bars may allow a business to lower insurance rates.
Don't wait until it's too late!
Contact Waco Locksmith Pros today to discuss our panic bar installation and repair options for your business.