Get Fast And Affordable Installation Services For Peepholes In Waco Texas
Improve Your Home Security Today With Peepholes
Peepholes are a great form of security because it allows you to see who is on the other side of the door, without having to open the door at all.
You don't always have windows to look through and before you open the door, it's important to identify who it is. Peephole services in Waco are just one of our specialties at Waco Locksmith Pros. Our mobile locksmiths will be able to come out and provide you with installations and repairs in no time at all.
We Install Peepholes In All Types Of Doors
Assistance from one of our residential locksmiths can be just what you need in order to enhance the security of your home.
Exterior Doors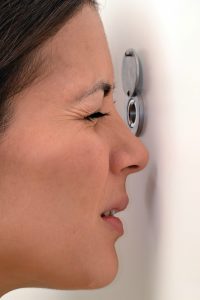 A peephole installation can be done on various exterior doors. This allows you to see who is at the door and what's going on around your home. If you have kids, we also install two peepholes, one at your height and one further down so your kids can see through it. This will make it easier for kids to see who is at the door before they open it to anyone.
Peephole Repairs
If you have had damage to your door due to a break-in or severe weather we will be right over to make any necessary repairs.
If you recently painted, installed a new door, or have had problems with your peephole, we offer peepholes repair services. Our emergency locksmith technicians can come out right away, ensuring you have this security measure in place at all times.
We will be happy to talk to you about a peepholes installation and show you the various options. This will help you to keep the aesthetics of the door while being able to see more of what's going on outside.
Why Choose The Pros In Waco?
At Waco Locksmith Pros, we pride ourselves on providing professional locksmith services in Waco Texas and the surrounding area. As a 24-hour locksmith company, we are at your service day and night. This ensures you are able to get repairs, installations, and even key duplications when you need them the most.
We have trained locksmiths and all of them have at least five years of experience. We are also constantly training in order to ensure we are up to date on all of the latest and greatest equipment, best models of locks, and much more. Whether you need residential peepholes installed or you need new locks, keys duplicated, or anything else, we can send a mobile unit out to you.
Book with confidence knowing that we offer:
Competitive, transparent pricing
30 minute or less response times
The best brands of locks
24/7 locksmith services
Premium customer service
Services provided by local, technicians that are licensed, bonded and insured
Tips For Enhancing Your Security
Whether it's for your home or business, there are security tips you should always consider. We offer security audits at any time, though there are some things you may be able to do on your own as well.
Consider…
Install new locks after you move into a new home
Have a peephole in place
Add a security system
Talk to your family about who to open the door for
Learn more about Waco Locksmith Pros and how we can help to enhance your security and provide you with peephole services and top-quality locks for your home and business.